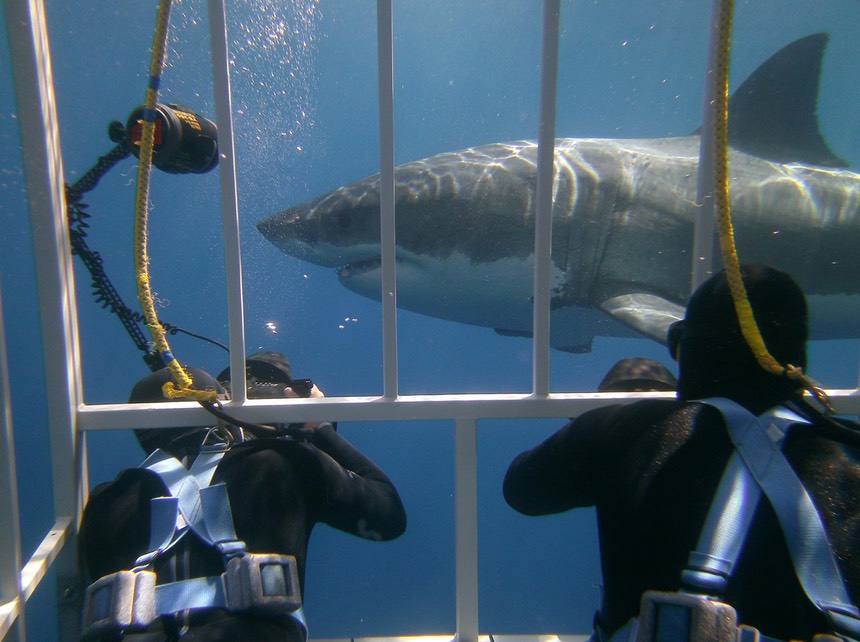 Today's Blogger:        Gary Richer
Today's adventure report is of a trip taken by my brother-in-law to swim with Great White Sharks in Mexico.  And I thought mountain climbing was crazy!
I took a five day excursion to Guadalupe Island (Mexico) to try cage diving for Great White Sharks. My buddy Carl Nehring has been on several of these adventures and promised me I would love it. I agreed that I would like to try some new adventures so I signed up. This was much more than I expected.
The boat leaves from Ensenada, Mexico and it takes about 20 hours to reach Guadalupe Island....about 120 miles off the Baja Peninsula. We sailed all night and arrived at the island early in the morning. Carl and I were on one of the first teams in the cage.....since I had never dived before I was really hoping to watch a few teams before I jumped in....just about everyone diving were seasoned divers, professional underwater photographers, or dived for a living......but I sucked it up as I didn't want to be a wimp in front of the pro's. Took me about 10 minutes to get a feel for what I was doing but after that I was down in the water for hours at time.
Once you're in the water you are greeted by beautiful blue water and temperatures that were quite comfortable. The first hour we didn't see any sharks....but after that it was non-stop. First day we saw 1-2 Great Whites, second day we were at 2-3, and I was told on the third day that there were six Great Whites swimming in the waters around the boat......unbelievable!! 
Several times the sharks hit our cages and one time a shark hit our cage head on and knocked us to our knees....awesome!!! At the cage next to us a shark stuck his head into the bars and shattered some teeth...one of the divers was able to grab part of a tooth. You can reach right out and touch these guys as they pass by however they discourage you from doing that....better to wait until their head is past you too. 
Getting into the cage you had to slide on your butt....they asked you not to fall into the water....wonder why. 
Too many stories to tell so all I can say is this was an adventure that was great and more than I expected. Great food on the boat, lots of nice people, beautiful weather, friendly sharks, great time. Note to Carl....thanks much for getting me into this.
I've attached pictures and also provided a link to You Tube that has some good video of the trip. The video was done by one of the crew.