Finding a comfortable chair for use in sea kayaking is problematic.  To be comfortable, it needs to be off the ground (unlike the Crazy Creek Chair), it needs four legs for stability (unlike the Alite Designs Monarch chair). and it needs to easily stow inside a sea kayak (unlike most camp chair designs).  The  REI Flex Lite Chair fills the bill for me.  There are a few other chairs on the market that fulfill these requirements also. (see competing chair designs)  
The chair most similar  to the Flex Lite chair is the Helenox Chair One Camp Chair. The Flex Lite and the Helenox are very similar in design.  The Flex Lite sits a half inch closer to the ground (13.0" as opposed to 13.5"), weighs a bit less (1 lb. 12 oz. compared with 2 lb. 0 oz.), and packs up slightly smaller (14 x 4 x 4 compared with 14 x 4 x 5).  There are two big differences between the Flex Lite and the Helenox, however.  The Flex Lite is load rated at 250 pounds while the Helenox is load rated at 320 pounds.  So if you weigh even close to 250 pounds, buy the Helenox.  However, I can't think of a single serious sea kayaker that I have met who weighs 250 pounds.  So if you reason as I did, buy the FlexLite at $69.50 and save the $30.00 difference (Helenox Chair, $99.95) to use on other gear!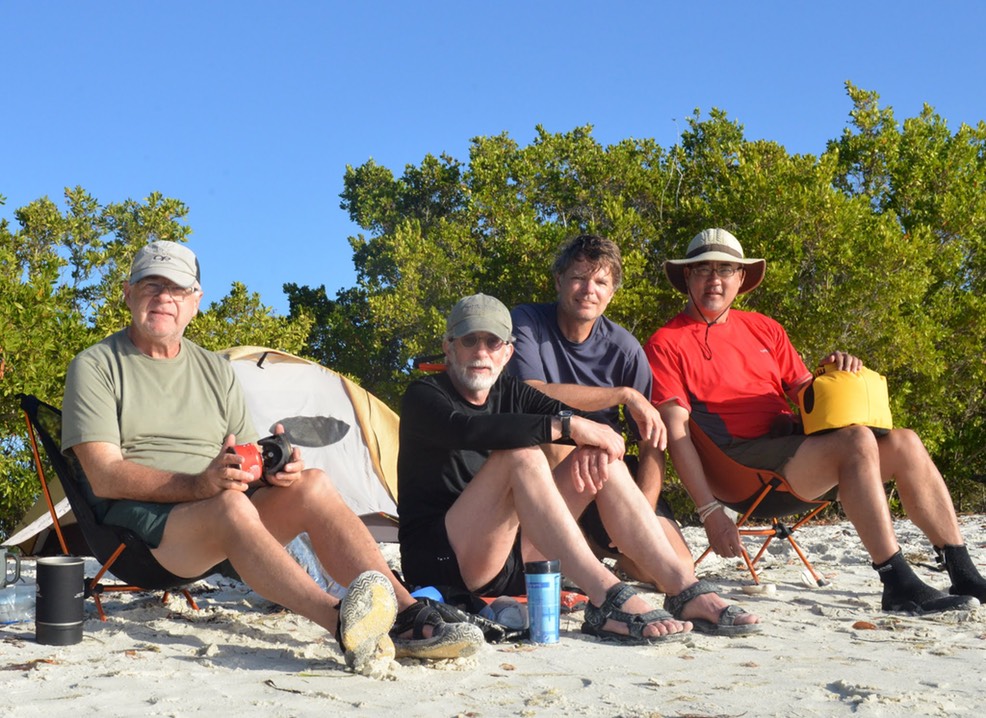 I have used this chair on five extended sea kayaking trips over the past year, in a variety of environments.  It is the first real chair that I've found that will easily fit in my sea kayak.  When on extended trips, storage space for gear is at a premium.  This chair slips into the often unusable space next to my skeg box.  In the past, I have resorted to using a Crazy Creek type chair that I could carry in my cockpit under my legs.  But in that location it gets wet.  To use it I have to let it dry.  And sitting on the ground to relax for six or eight days gets tiresome.  I've also tried a collapsable lawn chair that stows in a long bag.  I can get it in my back hatch - just barely, but it takes up too much room.  So I stow it on my back deck, tied on with bungees where it also gets wet and adds to the windage profile of the boat.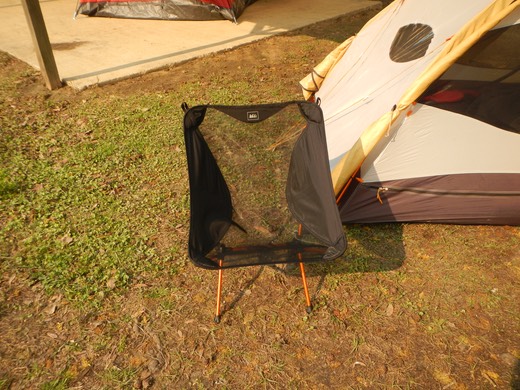 The Flex Lite chair is sturdy and very comfortable.  I have used it in rocky areas, sandy beaches and hard ground.  The only place where it is unstable is on soft, damp ground.  In this terrain one or more legs may posthole and cause the chair to tip over (and me too).  It has happened to me once in an area that had recently been flooded.  In sand I find that if I sit placing my weight evenly on the seat, all four legs will sink several inches into the sand and the chair will stay upright and stable.  This chair is so appropriate for sea kayak trippers that five of my paddling buddies have purchased the Flex Lite chair based on watching me be comfortable on these trips.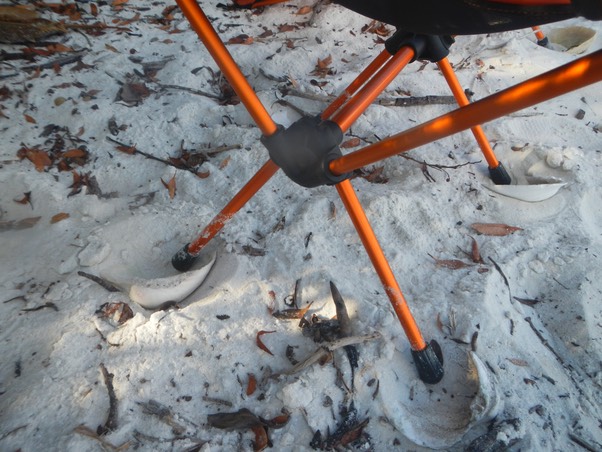 As you can see, I am quite enthusiastic about this chair and recommend it to any sea kayaker looking for a comfortable chair that will easily fit into his or her kayak's hatch.  It has really added a touch of luxury to my wilderness camping experience.  There is one thing I would suggest to REI however, around the chair's tendency to posthole in soft soil.  I wouldn't change the chair, but I would offer an accessory foot package of three inch disks that would slip onto the chair's legs for use in soft soil and sand.